Limited edition
"CHI HA PAURA DEL MERKATO?"
2002
limited edition collection 20 pieces - 9 pieces of furniture numbered 1-20
Sono stato invitato dai Signori che organizzano a Verona l'evento che si chiama "Abitare il Tempo" insieme all'industria di mobili che si chiama OAK Design e della quale i Signori Renato Pologna e Roberto Leoni rispettivamente titolare e general manager, a partecipare a una mostra "fuori commercio" o come direbbero gli americani "Off Abitare il Tempo".
Ringrazio gli organizzatori dell'evento veronese e ringrazio particolarmente i
Signori Pologna e Leoni che senza battere ciglio, anzi con molta cortesia,
hanno accettato di lavorare con me.
E. Sottsass
Wardrobe with three elements in millerighe metal laminate in three colors, solid maple doors and structure, laminate base, maple interior with hanging bars, polished steel handles.
Overall dimensions cm. 200x60x190 h
Cabinet composed of laminate base with pear wood legs, upper part with two yellow lacquered doors with frosted glass and four white lacquered drawers, transparent plexiglas table, black stained open element and yellow lacquered object holder.
Overall dimensions cm. 250x50x198 h
Cabinet composed of laminate base with pear wood legs and two black lacquered big drawers, upper part with pear wood open element with shelves and yellow lacquered object holder element and pear wood top.
Overall dimensions cm. 250x65x219 h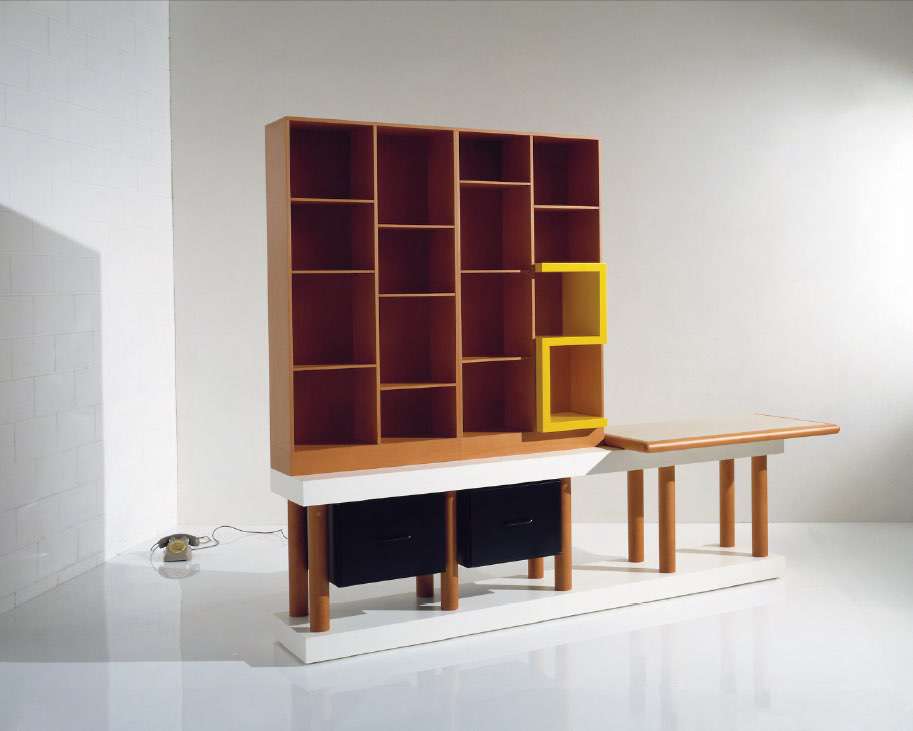 Tower in laminate with doors and drawers in solid maple and with maple knobs, open parts with grid elements in black stained wood, fixed parts covered in mirror, laminate base.
Overall dimensions cm. 80x80x220 h
Round coffee table with red lacquered wooden cylinders, top structure and base in polished steel.
Overall dimensions cm. Ø 40x60 h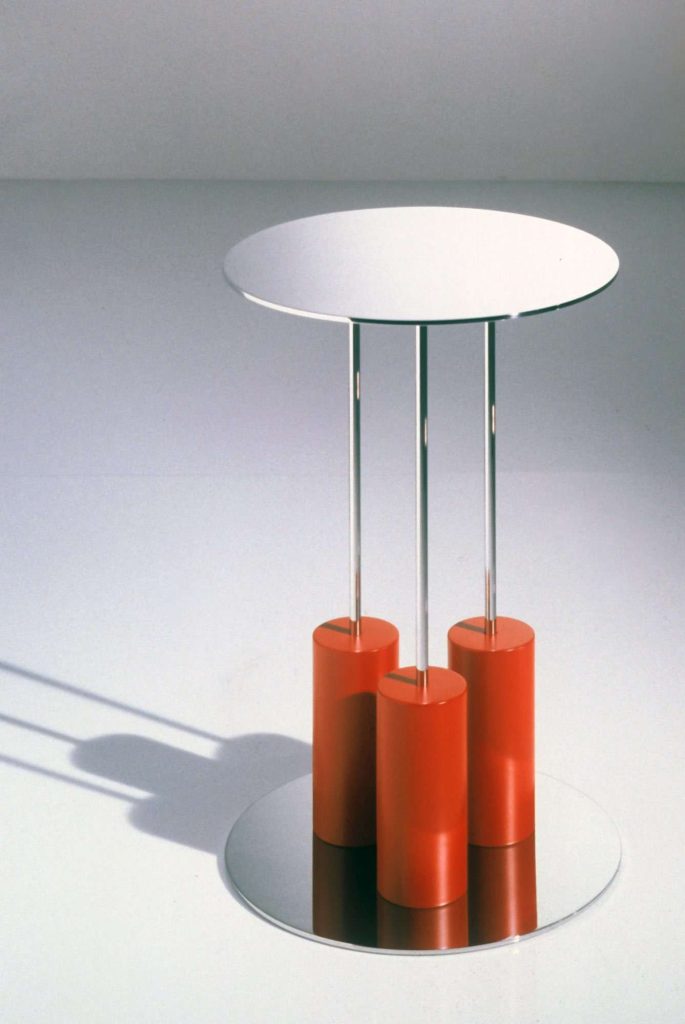 Square coffee table with wooden base finished in silver leaf and black lacquering, structure in polished steel, top in polished steel with black lacquered top.
Overall dimensions cm. 40x40x60 h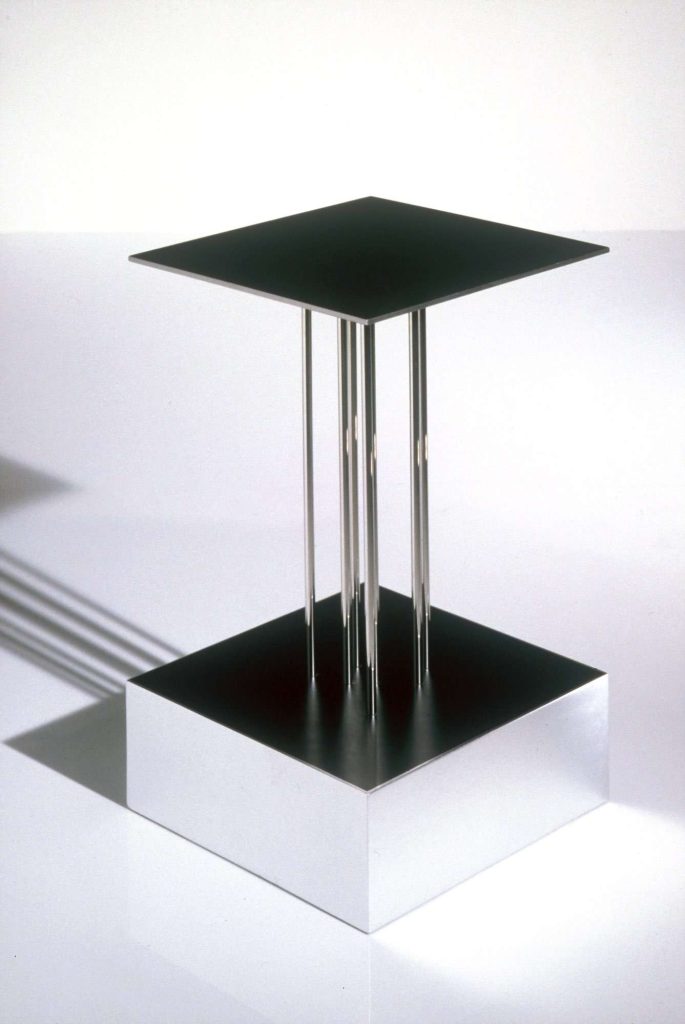 Round coffee table in red lacquered wood with polished steel base.
Overall dimensions cm. Ø 40x60 h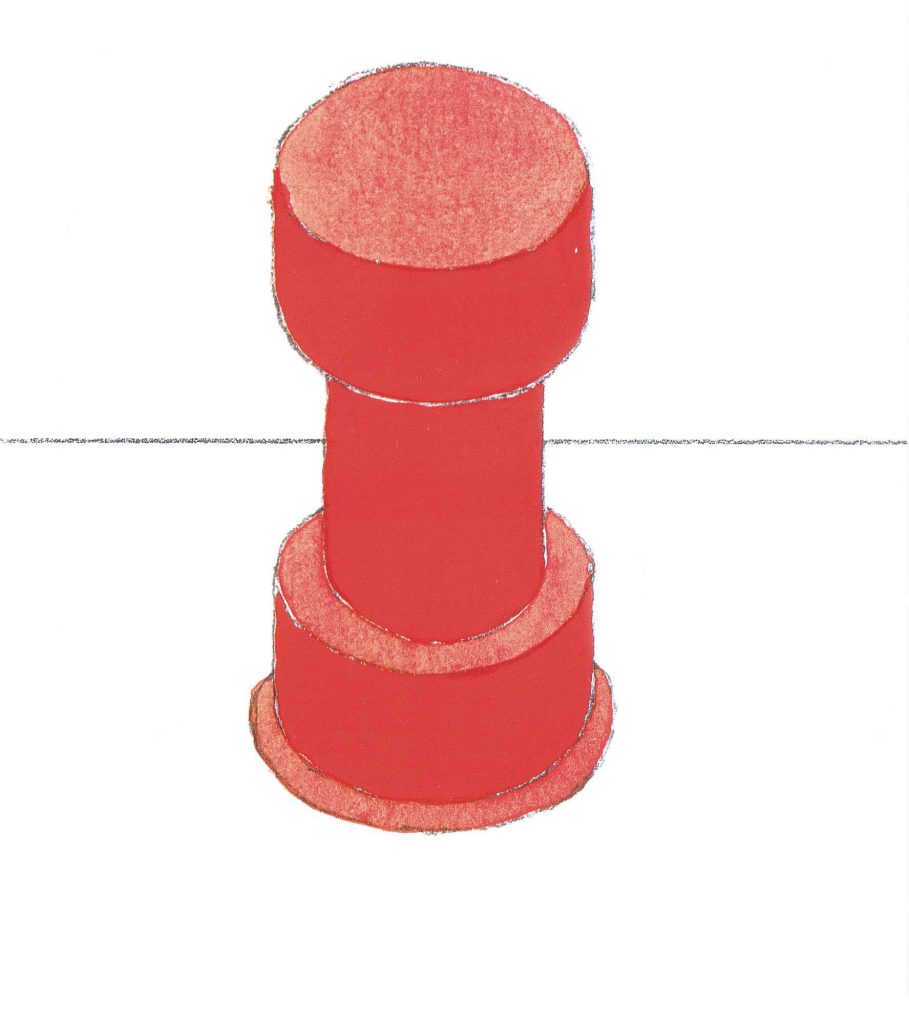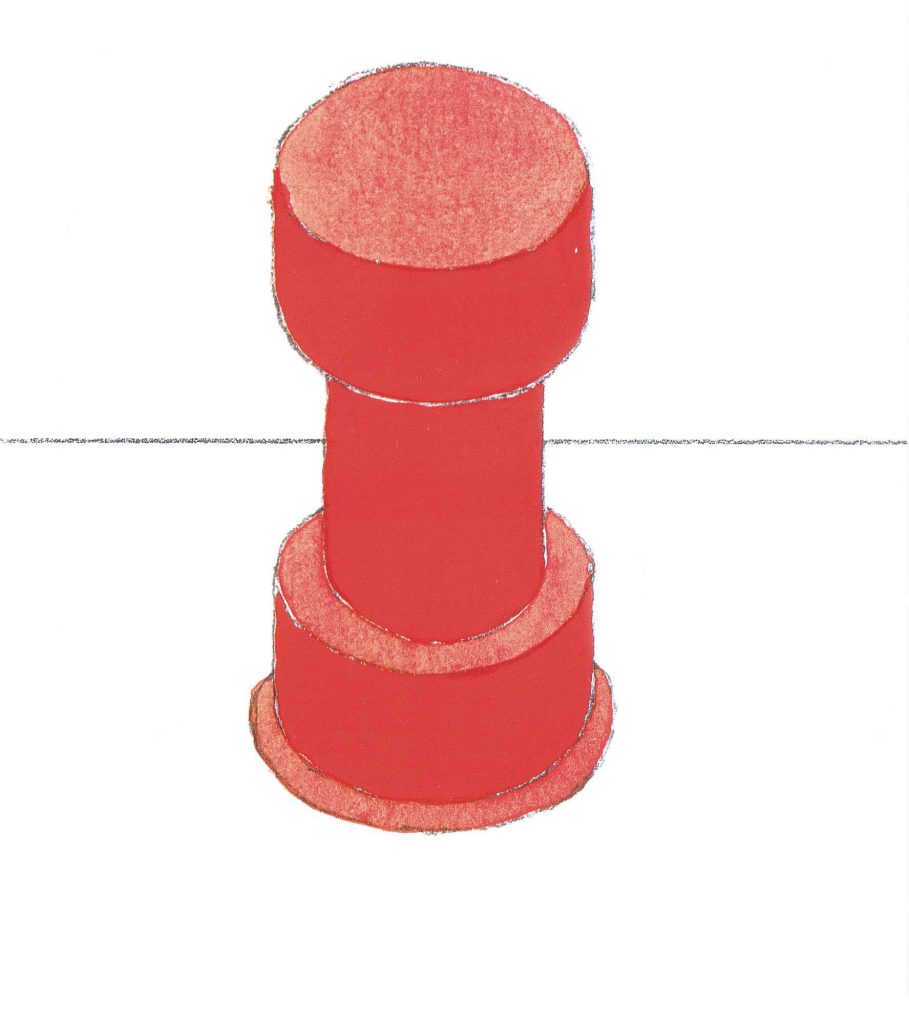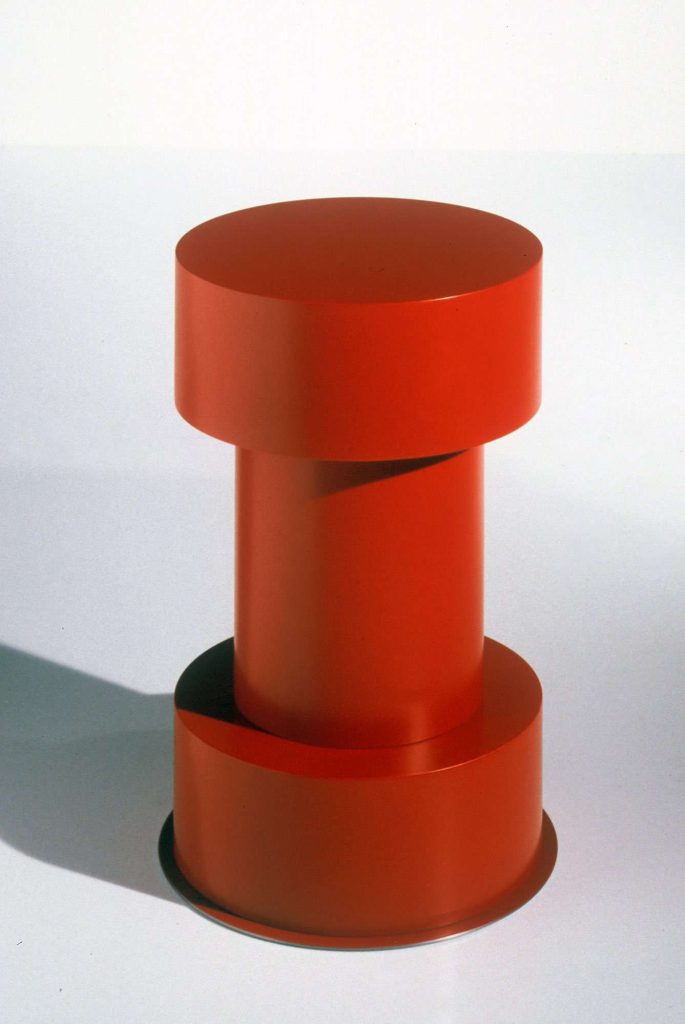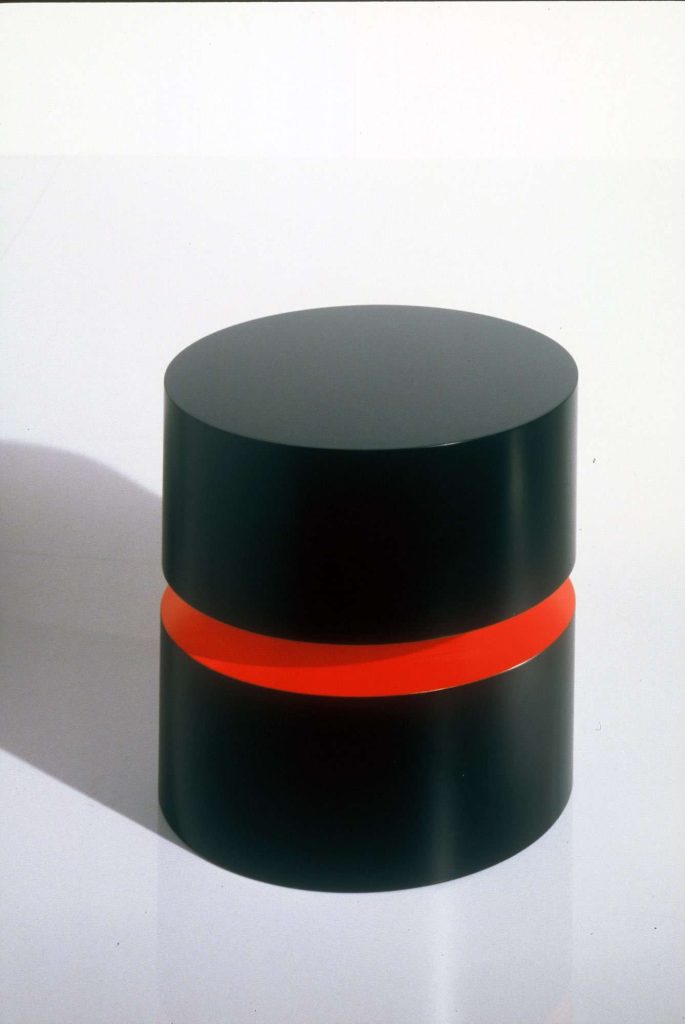 Round coffee table in black lacquered wood with central part in red fluo finish.
Overall dimensions cm. Ø 45x45 h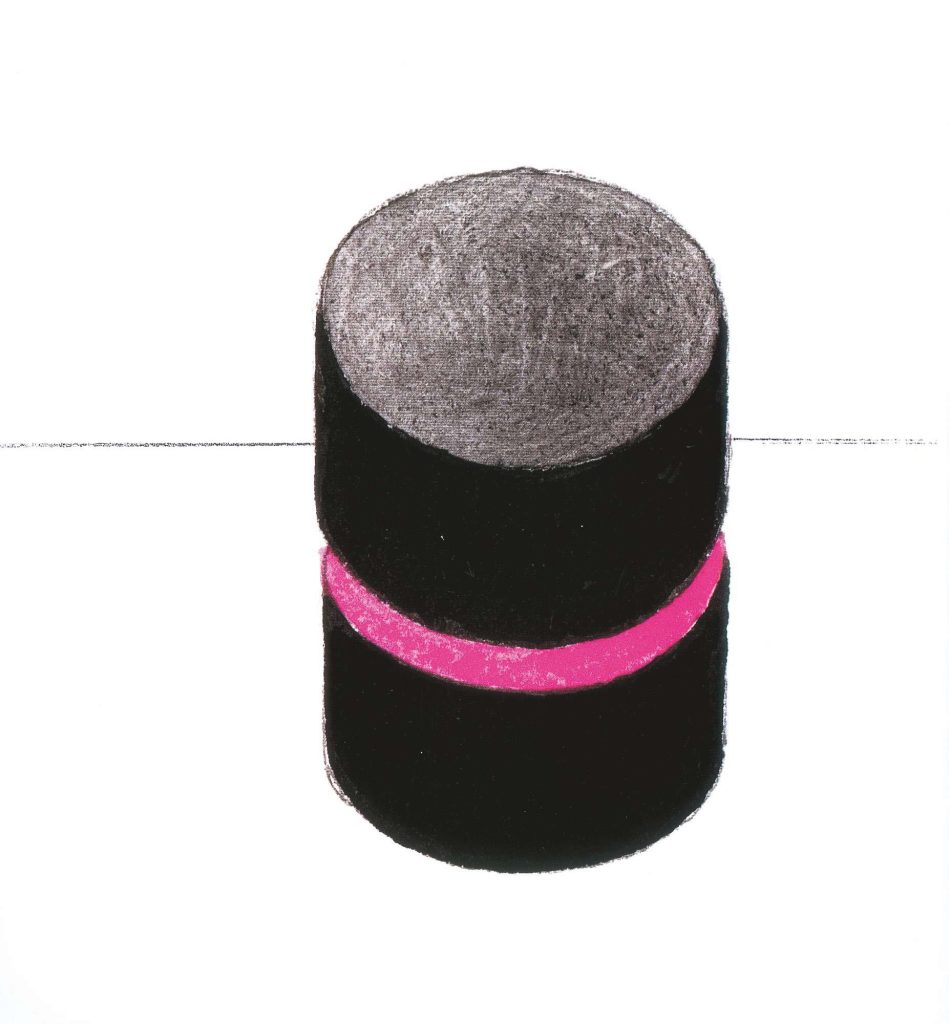 Round wooden coffee table with base and top in wengé wood and column in steamed beech wood.
Overall dimensions cm. Ø 35x53 h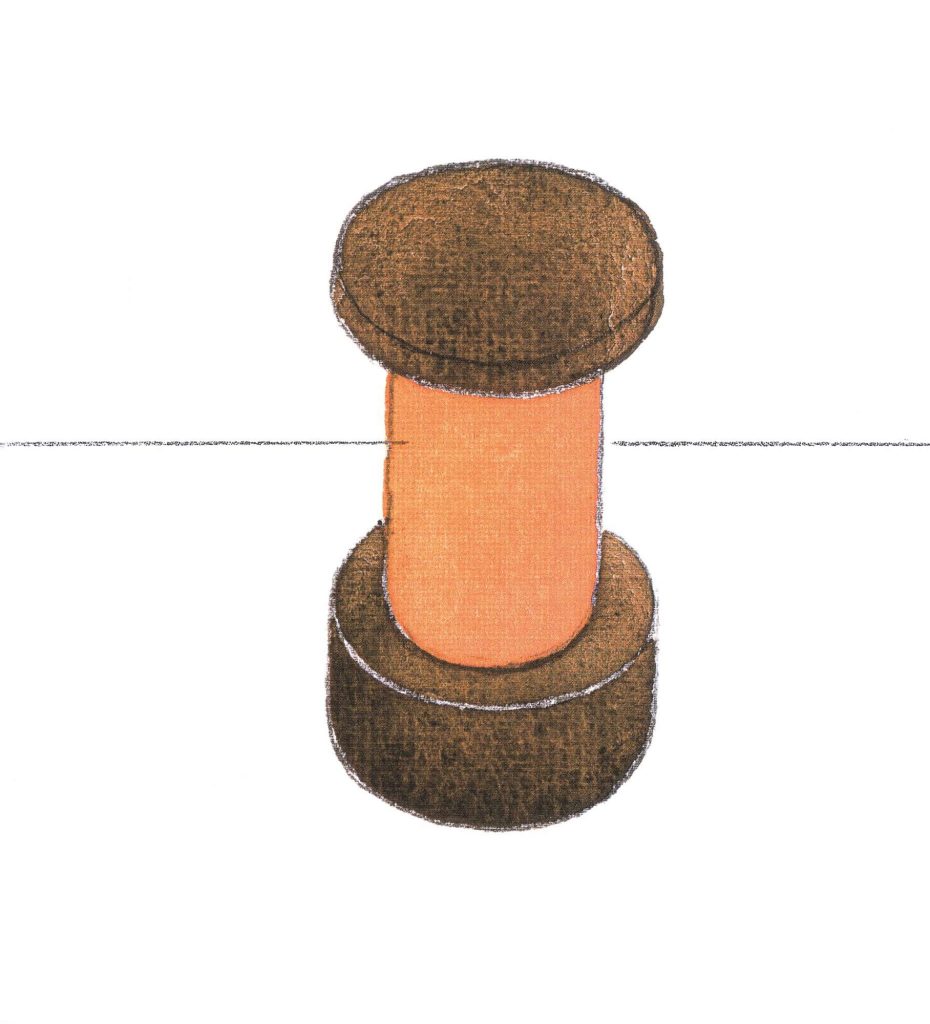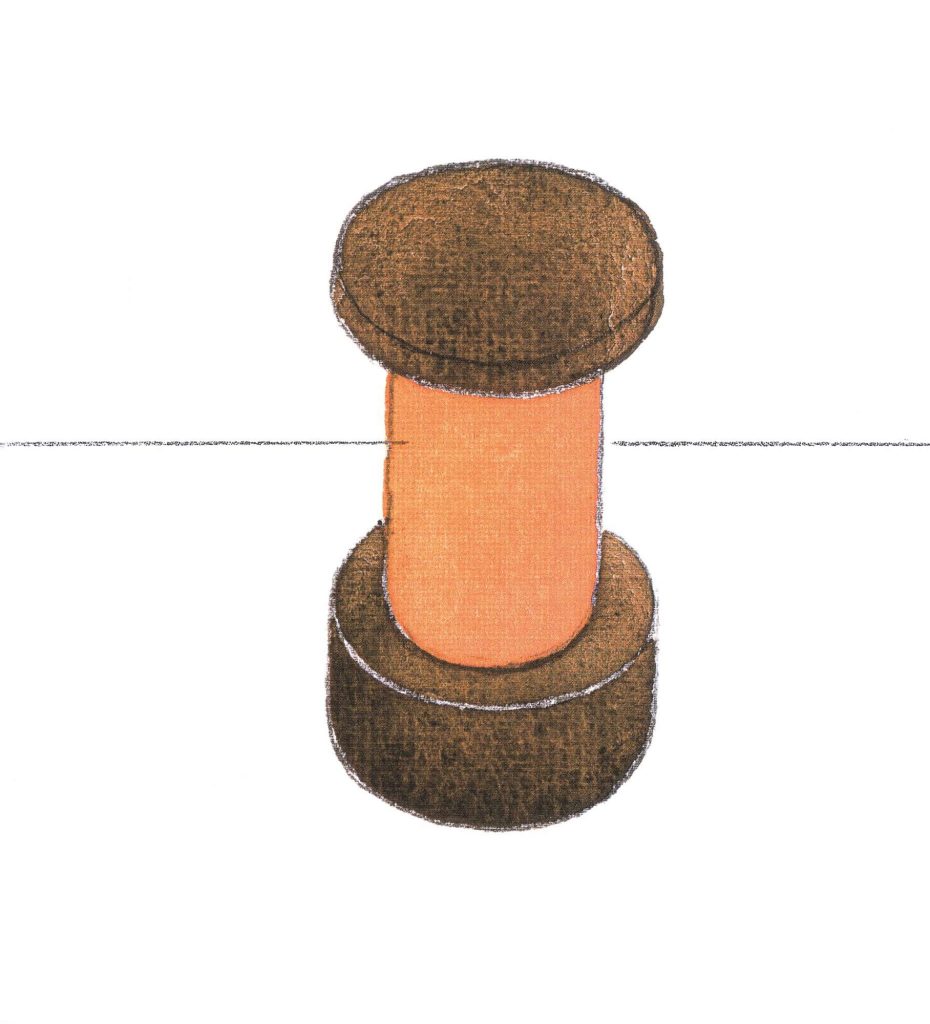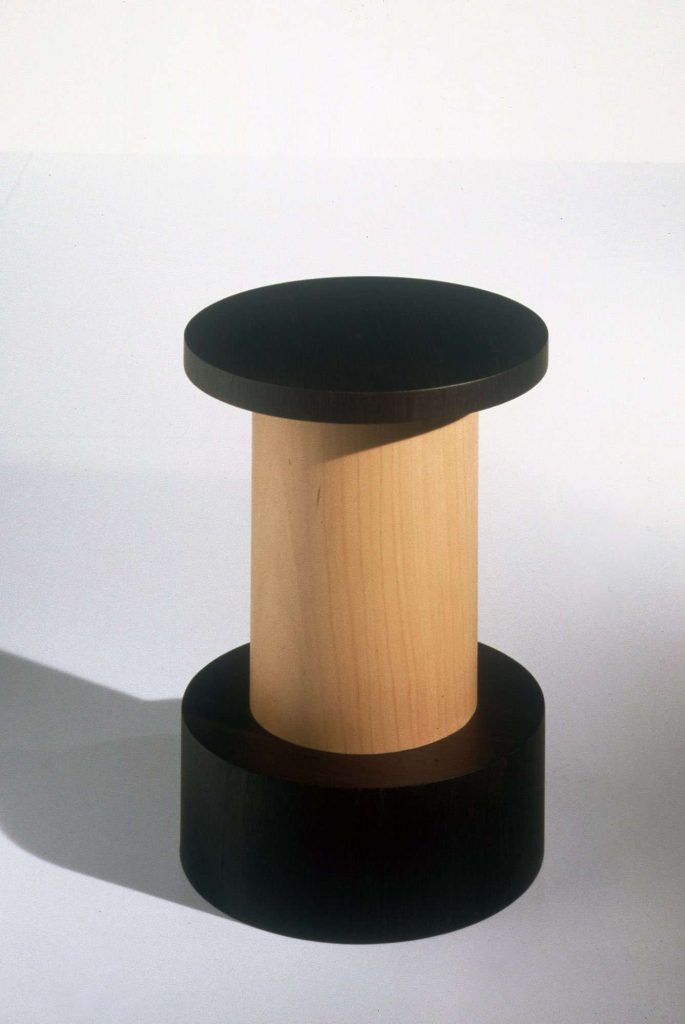 Square coffee table in stained bolivar wood, solid maple with polished steel base.
Overall dimensions cm. 49x49x45 h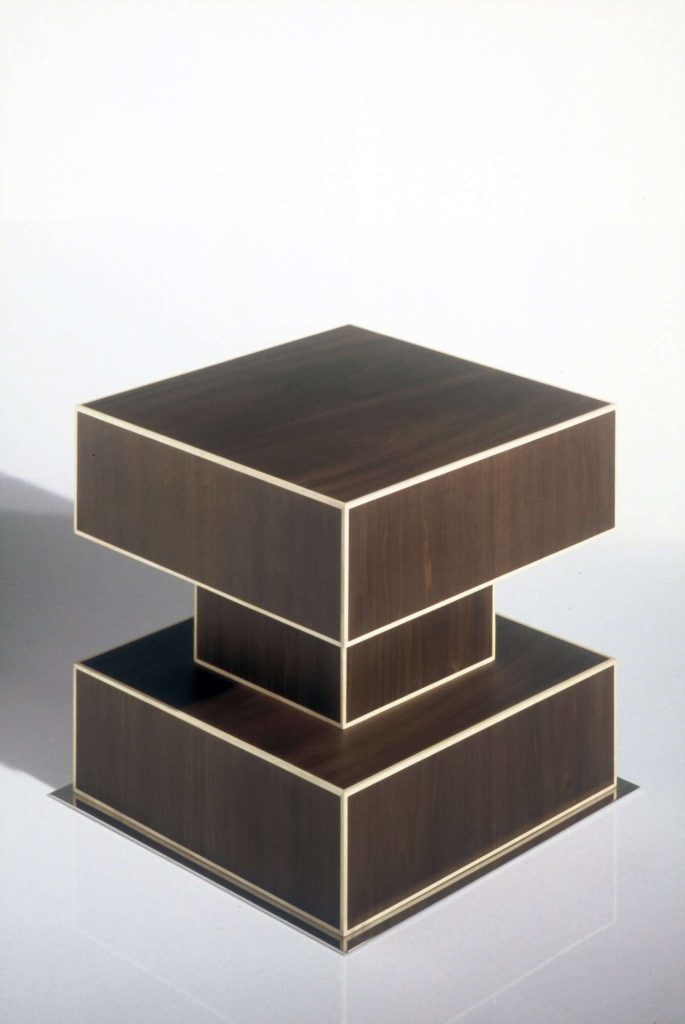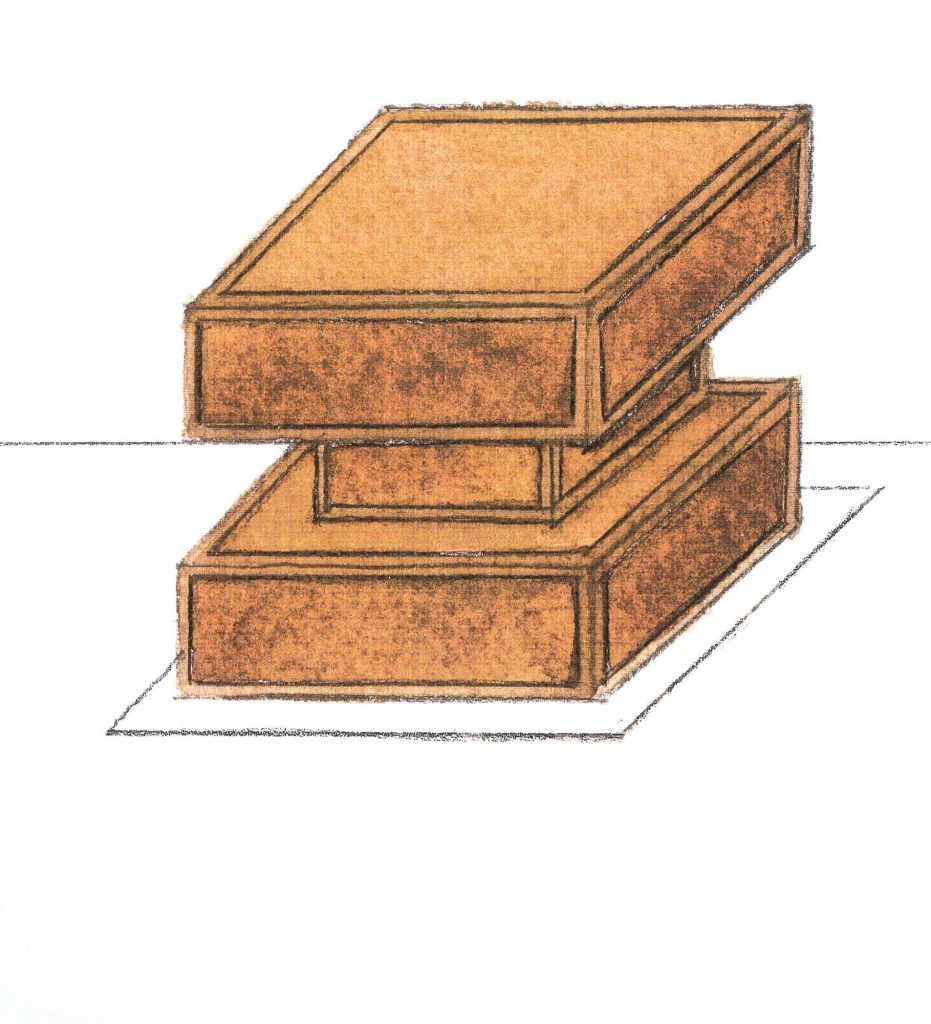 Cabinet with three elements entirely covered in mirror, maple interior with two hanging bars in the two lower elements and two shelves in the upper element, knobs in black nickel finish, base in red laminate.
Overall dimensions cm. 140x56x195 h
Ebony cabinet with three purple lacquered chests of drawers with burnished brass knobs, steel top veneered in ebony, gray lacquered upper element with shelves and two small drawers, one gray and one white.
Overall dimensions cm. 110x49x190 h
Cabinet composed of three elements, closet with two doors in vavona burl, closet with one door in stained black bolivar with fluo red plexiglas box, hanging chest of drawers in gray erable with maple knobs, doors, fronts and structures in solid maple, maple interior with hanging bars, base in vavona burl with solid maple.
Overall dimensions cm. 205x70x190 h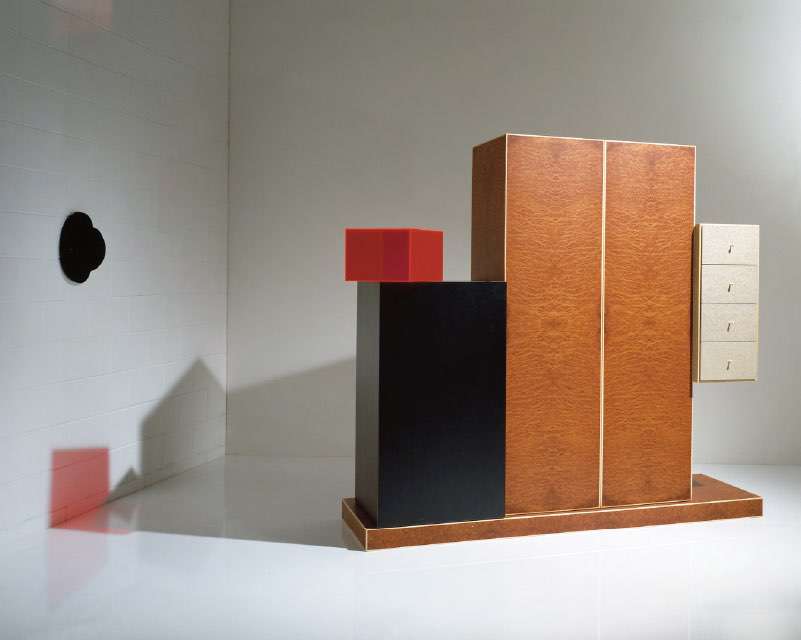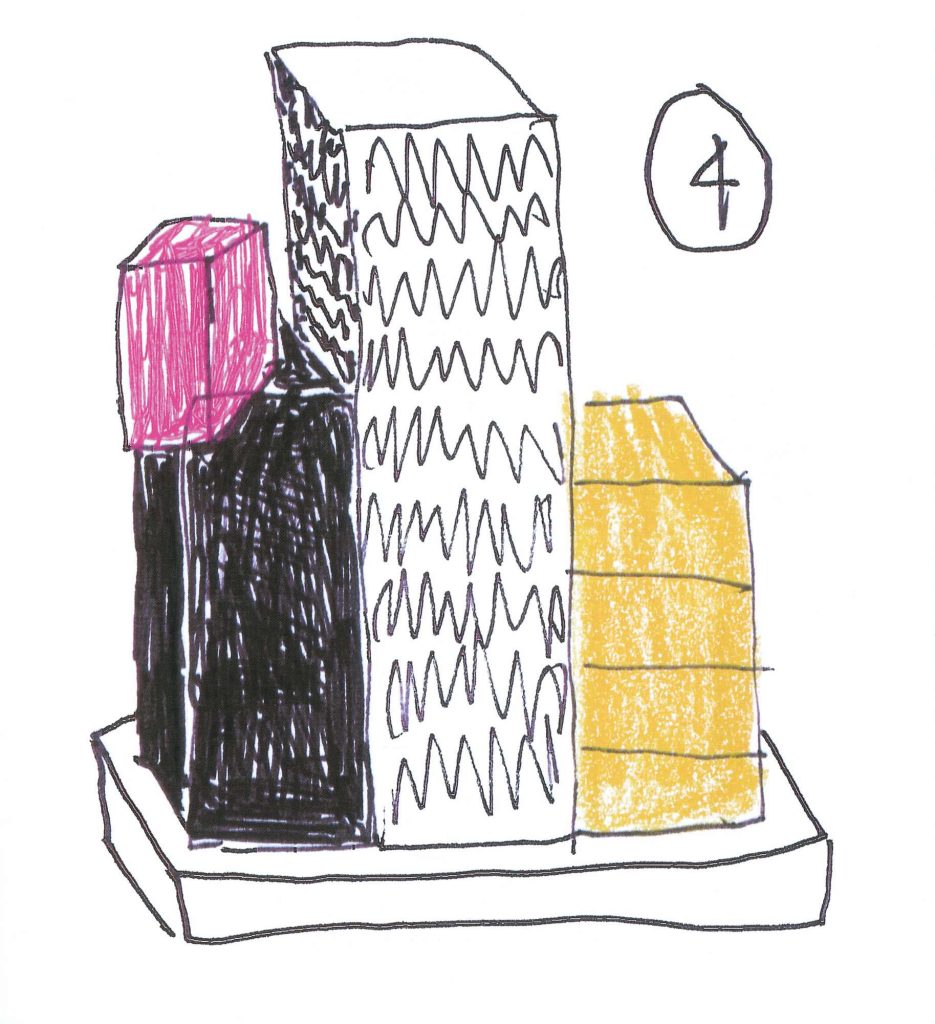 Table in oiled ash wood and solid maple, legs with bases and fixing structure to the top in polished steel.
Overall dimensions cm. 250x90x73 h
Limited edition
Canyon & Grand Canyon
2019
limited edition collection 30 pieces
A table is far more than just a surface to put things on: for over two thousand years it has played an important role in most spheres of human life, particularly as regards social activities. We sit around a table to talk, argue, socialize, discuss things; it's the place where we eat, play, study, cook, sew… where wars are decided, and armistices signed. Also, as far as I am concerned, the table is a sort of small-scale piece of architecture. Canyon, the table designed for OAK, is a combination of design, architecture and art.
Table in mirror polished steel with crystal glass top
Overall dimensions: Canyon: cm. 150x225x71H - Grand Canyon: cm. 225x225x71H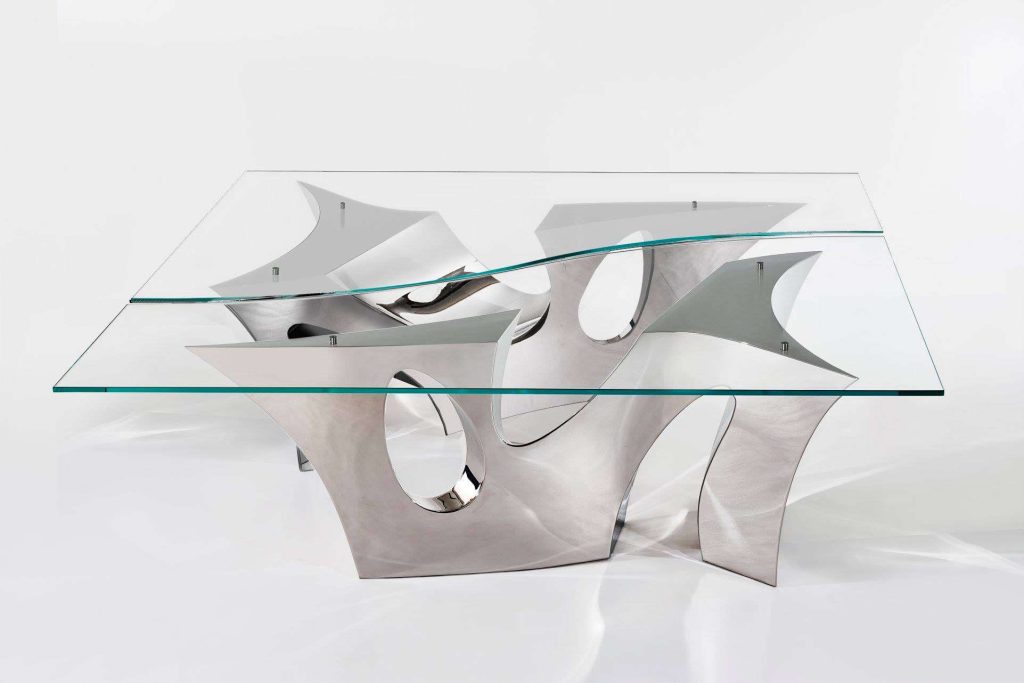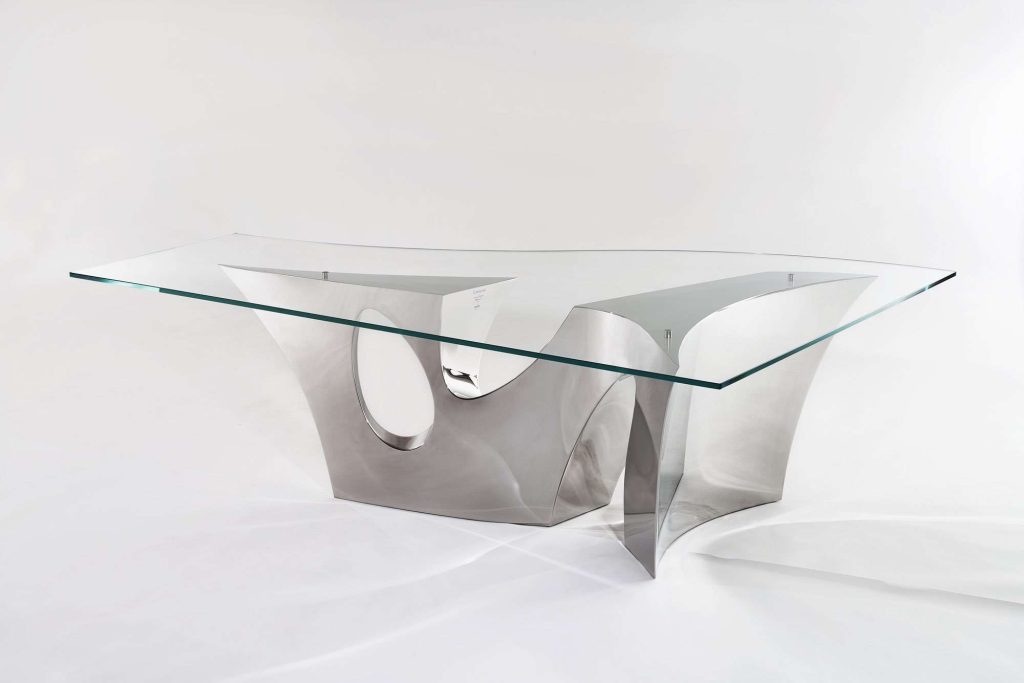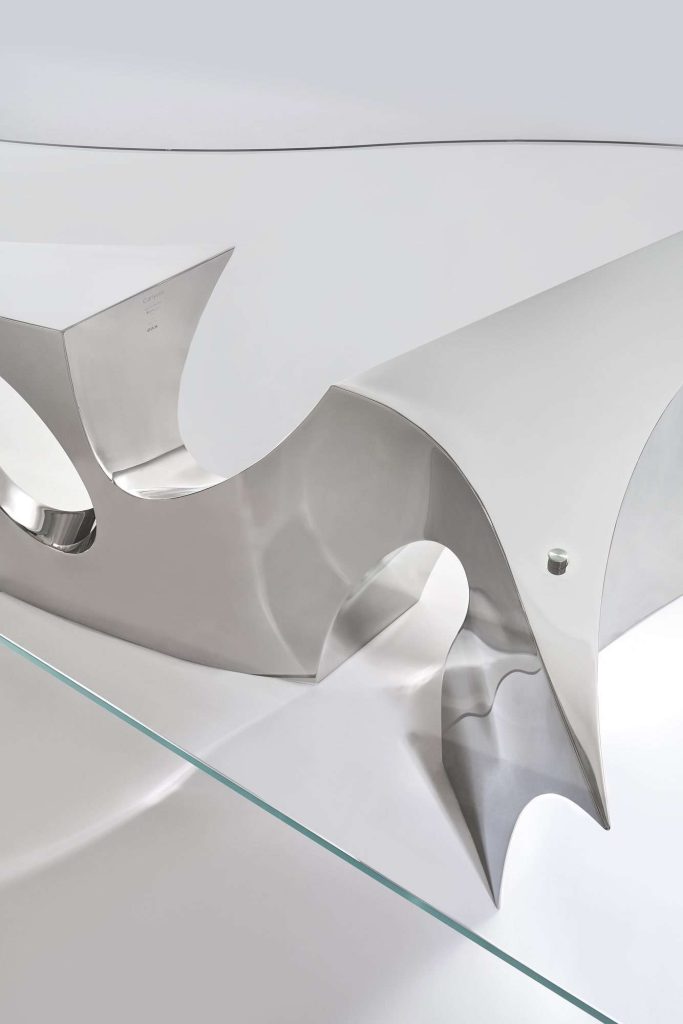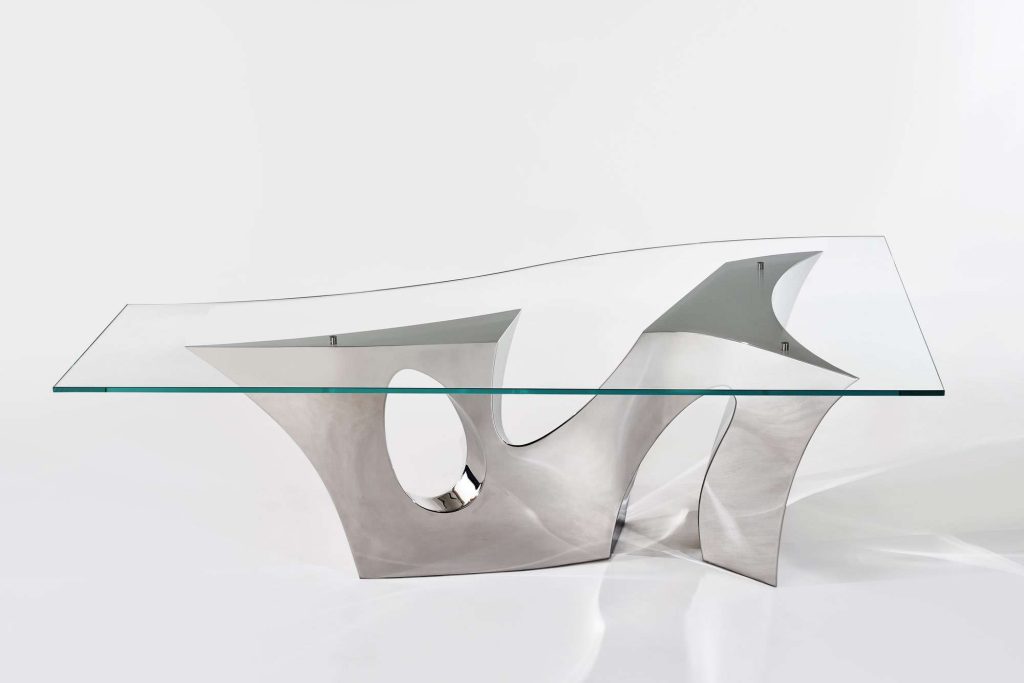 MARIO BELLINI AND OAK
THE ENCOUNTER
With Canyon and Grand Canyon tables the collaboration between OAK and Mario Bellini, internationally renowned architect and designer, begins. An encounter that took place at the beginning of 2018, around the precious "Limited Edition" collection designed by Ettore Sottsass for OAK. From this first contact, two design adventures were born, which established the relationship between the company and the designer: first, the installation called "Face to Face", realized for "Interni" magazine at the State University of Milan during the Milan Furniture Fair 2018, of which OAK was a sponsor. The second, on the occasion of the world tour of the Triennale exhibition "Mario Bellini. Italian Beauty," of which OAK was main sponsor, opened with the first stop in Moscow, at the prestigious Schusev State Museum of Architecture. Here Canyon and Grand Canyon were unveiled in absolute preview, to be then officially presented in the wider setting of the Milan Furniture Fair 2019.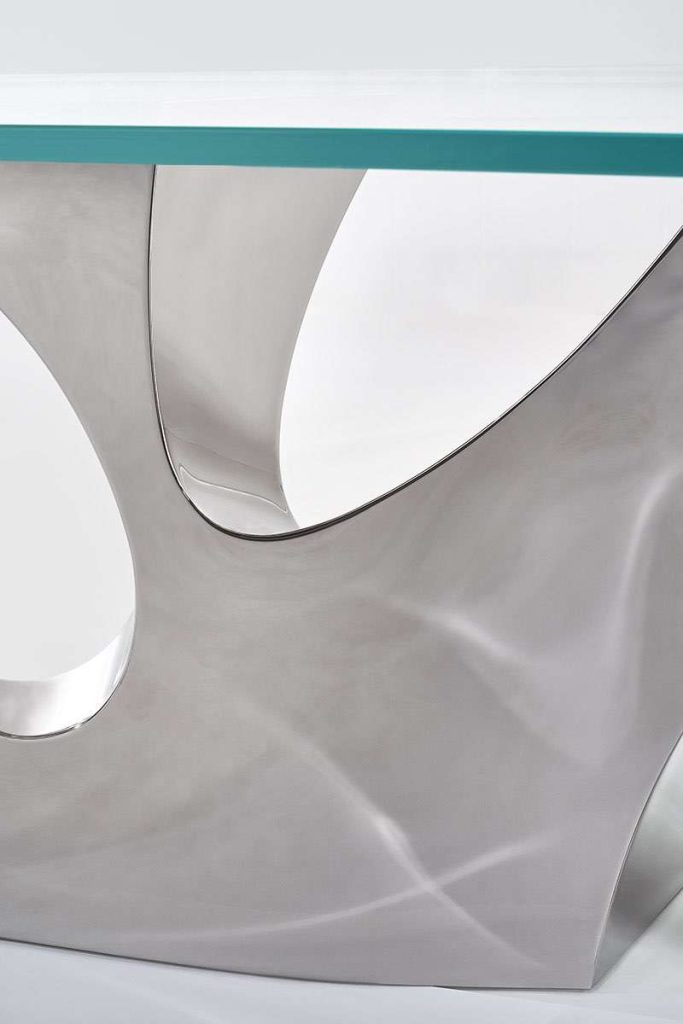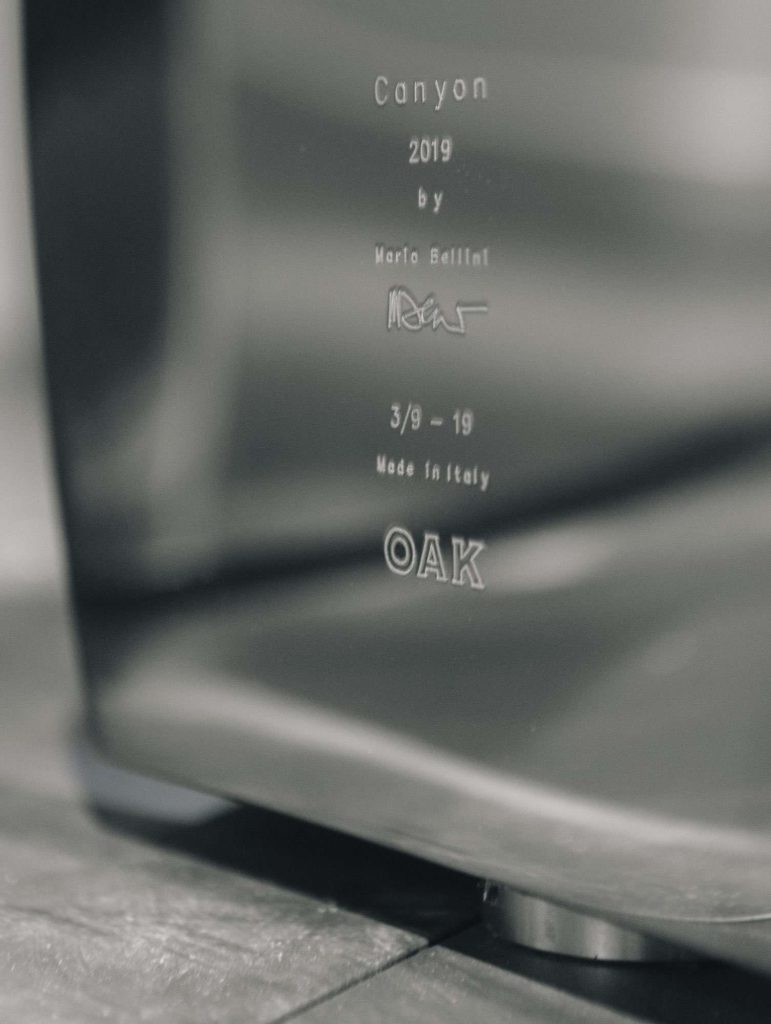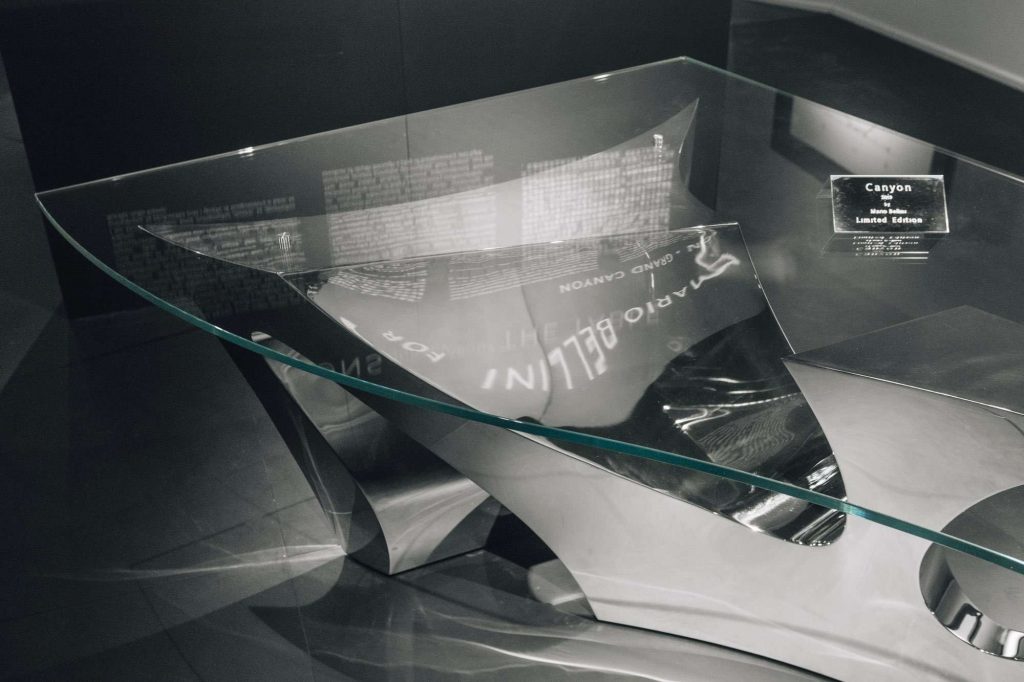 Foto Salone del mobile 2019
Canyon è una scultura di luce, riflessi e ombre, modellato in acciaio specchiante, su cui si appoggia un piano di cristallo a formare un tavolo che, se accostato contrapposto ad un altro esemplare, dà luogo ad un grande tavolo quadrato – Grand Canyon. Ma la vera sorpresa è che è un tavolo doppiamente ''affollato'': l'acciaio specchiante raddoppia le immagini e i volti di chi vi si siede attorno. Un'esperienza estetica.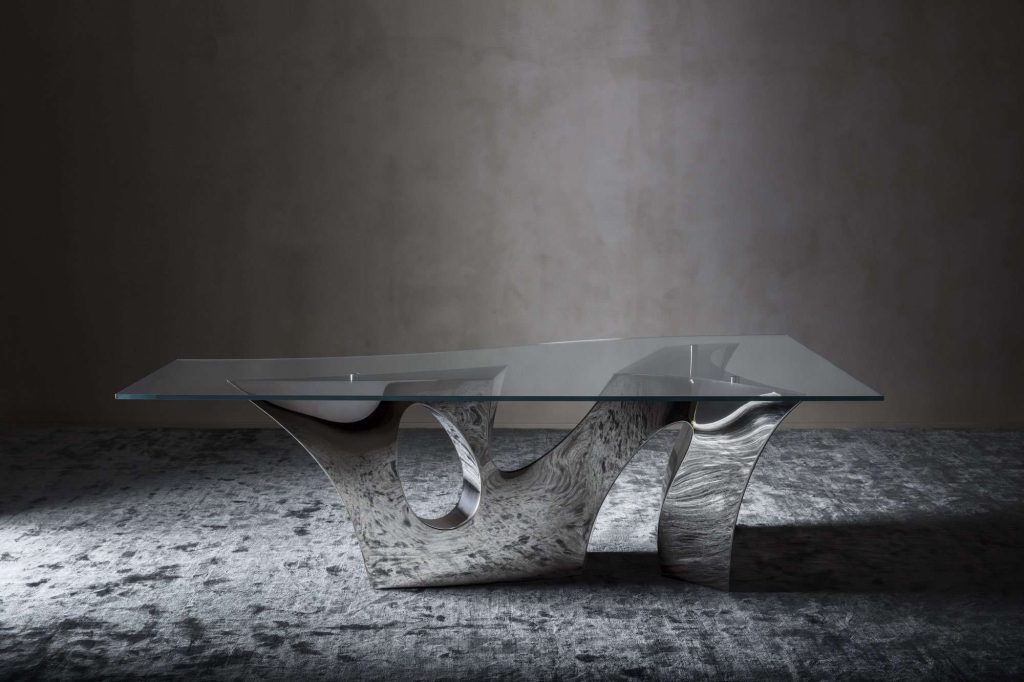 Canyon is a sculpture of light, shadows and reflections, made of mirror polished steel and with a crystal glass table top. By placing two together, one opposite the other, you can form one large square table – Grand Canyon. But the real surprise is that the table is doubly "crowded": the figures and faces of those sitting around it are reflected in the mirror polished steel and duplicated. An aesthetic experience.
Limited edition
Energia
2002
limited edition collection 30 pieces
Paolo Portoghesi was born in Rome in 1931.
Since 1995 he teaches Architectural Design at Rome university "La Sapienza". His activity has been carried out in parallel in the fields of historical research and architectural design, in the direction of a reintegration of collective memory in the tradition of modern architecture.
A number of exhibitions and publications have been dedicated to his work as an architect and theorist in Europe, America and Australia.
Table with base in ash wood, metal tips, extra clear glass top.
Overall dimensions: cm. Ø 130x78H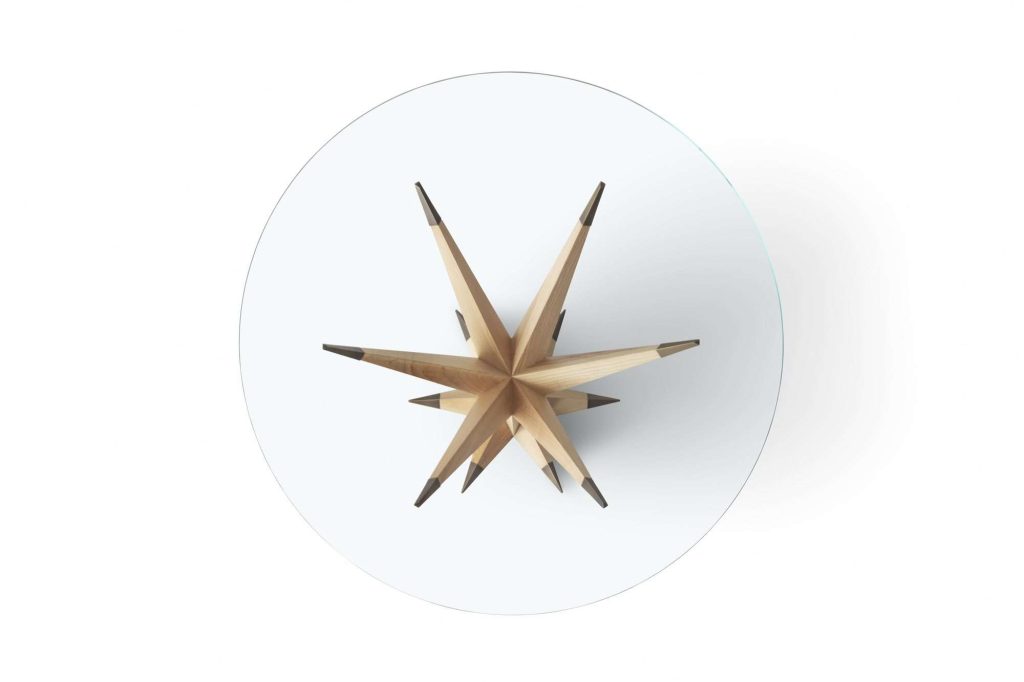 A table with a strong and unique character. The masterful combination of materials with contrasting textural register, combined with the minimal design, make this model a masterpiece. Its aesthetic impact is enhanced by the simplicity of the elements, creating a timeless piece.